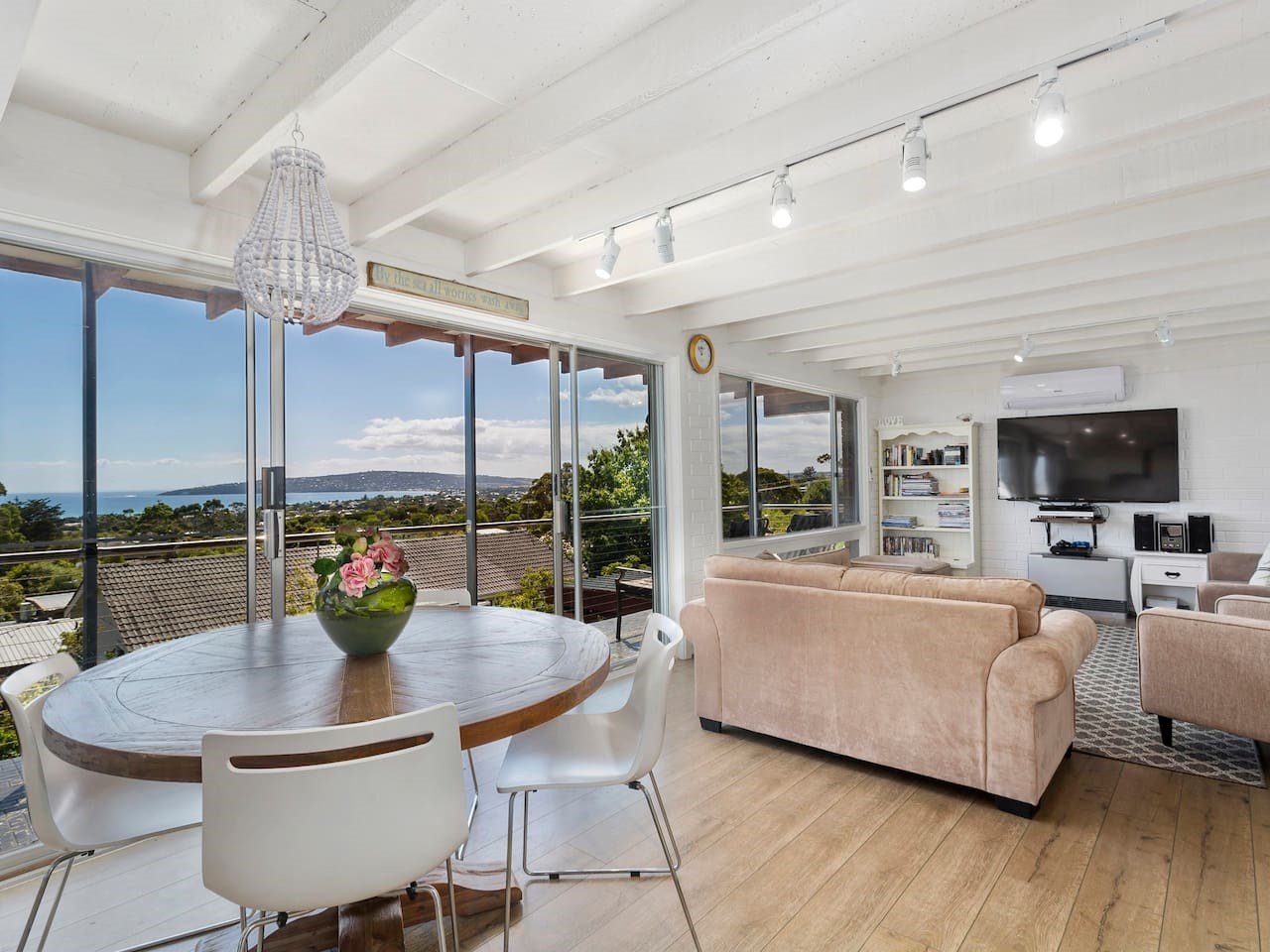 Welcome to Number 4!
Number 4 is a spacious and stylish home located high above the sea in the coastal suburb of Dromana, located on the Mornington Peninsula.
The Space
Number 4 is a bright open plan home with a completely renovated kitchen and bathroom, fitted with modern appliances, styled with coastal tones and sophisticated furnishings.
The lounge room leads out to a light filled decking with a perfect view of the Mornington Peninsula Bay.
This home is fitted with two bedrooms adorned with quality, comfortable linen.
The Neighbourhood
Number 4 is situated near some of the most popular attractions on the Mornington Peninsula. Located in the heart of Dromana, you'll find an abundance of adventures to get lost in.
In the surrounds of the property, you will find there's a lot to participate in. Delightful local cafes, wineries and the infamous Peninsula Hot Springs will entice you during your stay here.
The Details
The home feature the following amenities;
The Essentials (Towels, Linen, Soap and Toilet Paper)

Washing Machine and Dryer

Ironing Facilities

Air Conditioning and Heating

Television

Free Parking on Premises

Shampoo and Conditioner

Smoke Detector
This home features the following sleeping arrangements;
Bedroom 1 features a King sized bed.

Bedroom 2 features two Single sized beds and a floor sized mattress.
How to Book Number 4
Directly booking Number 4 through the Air2Air website ensures we maintain direct and clear contact at all times. This also means your total booking cost will be less than Airbnb's total booking prices**
Booking Number 4 through Airbnb is easy to do. Booking through Airbnb may cost more than a direct booking through the Air2Air website due to Airbnb service fees. (clicking this button will lead you to the airbnb.com listing of Number 4. You will require a user base and a verified Government ID to book)
** Directly booking through us will exclude the Airbnb service fee, but may incur other fees, as referred to in our Guest Terms and Conditions.